Introducing Franz Josef Glacier
In the world of glaciers, Franz Josef is something of a rock star
Meet Franz Josef Glacier, or, as its known in local Māori legends, Kā Roimata-a-Hine Hukatere (the frozen tears of Hine Hukatere).
From its origins high in the Southern Alps, the Franz Josef Glacier (Kā Roimata-a-Hine Hukatere) descends into the lush native rainforest of Westland's National Park. This descent occurs from a height of 3,000m above sea level to 500m over a distance of 9km, making it one of the steepest glaciers in the country.
The Franz Josef Glacier also moves faster than your average glacier, where recordings of the main ice fall have been captured at having speeds of up to five metres per day!
This creates some truly incredible features in the glacier such as ice caves, tunnels, seracs and crevasses; all of which are constantly changing and evolving so no two days are ever the same. Our guides craft their way through the terrain using their ice axe to find the most impressive glacier features and safest hike route.
Glaciologists consider Franz Josef to be a 'rock star' because of these factors. In fact, it has the lowest terminal face elevation of any glacier flowing into a temperate rainforest in the world - that's pretty special!
Fox Glacier or Franz Josef Glacier?
If you're wondering what the differences are between Fox and Franz Josef Glaciers, here are some key factors to consider
The West Coast of New Zealand is renowned for three things: the phenomenal amount of rainfall Westland receives every year, the region's jaw-dropping beauty and its fascinating glaciers.
Two glaciers, in particular, Franz Josef and Fox, are unique in that each glacier's terminal face is quite low in altitude in comparison to other glaciers at similar latitudes around the world.
Franz Josef Glacier Guides has exclusive guiding access to Franz Josef Glacier - the only operator certified to offer guiding experiences on this impressive glacier.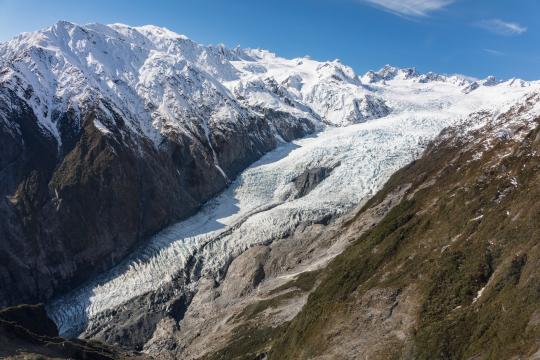 Ice Formations
Fox has a gradual descent, whereas Franz Josef drops steeply from the Southern Alps to near sea-level. The steeper incline forces dramatic movement of ice, making Franz Josef Glacier the fastest commercially guided glacier in the world. Our guiding area lies at the top of the main ice fall, where impressive glacial features lie, such as seracs (ice towers), crevasses and tunnels that accentuate the famous 'blue ice' visitor experience. Our guides craft their way through the terrain using their ice axe to create a safe, yet unforgettable adventure.