Test yourself to reach new heights!
Glacier climbing in Aotearoa (New Zealand) is considered by many to be among the best in the world. Join us for a day packed with excitement and adventure to see what all the fuss is about. You bring the enthusiasm; we'll bring the expertise.
Your day begins with a full briefing at the Glacier Base Building. Your guide will equip you with all gear needed to ice climb. You are now ready for for your scenic helicopter transfer up onto the glacier; a great chance to take in the full panoramic majesty of the glacier and surrounding mountains.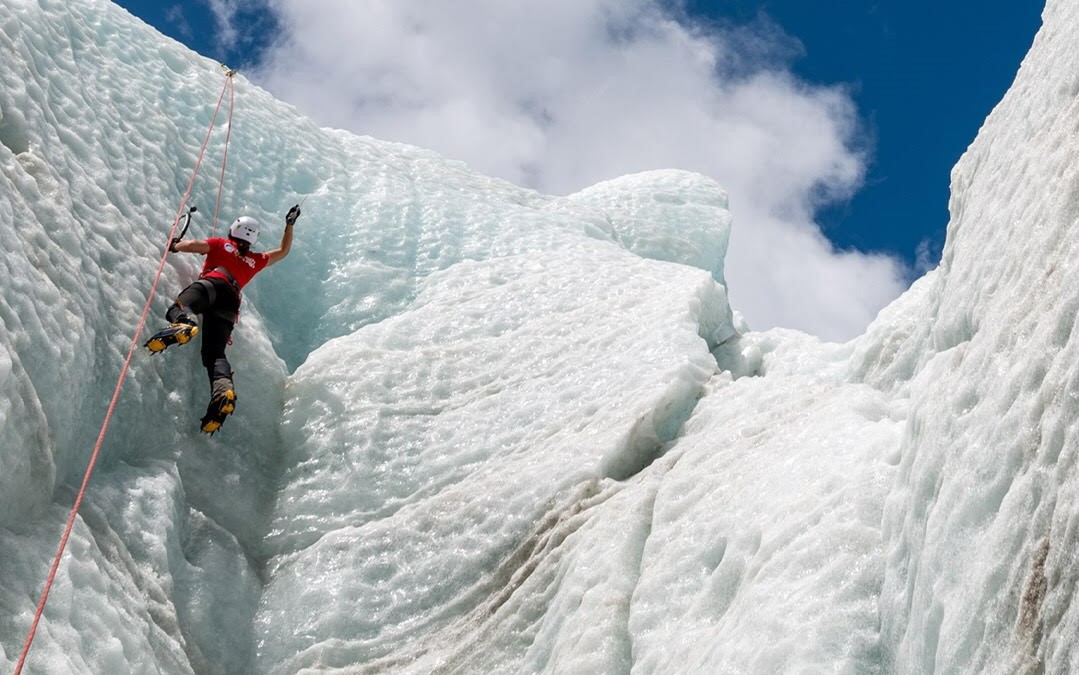 Tour Details

Helicopter Ride
A short scenic helicopter transfer over the glacier valley, landing on the ice

Difficulty
A moderate introduction to ice climbing with one of our experienced guides

Ice Time
Up to 6 hours on the ice including hiking, climbing and tuition

Tour Duration
Up to 8 hours from time of check-in to the end of the trip

Tour Times (Summer)
8am departure (check-in 7.05am)

Guide to Guest Ratio
1 guide to 4 guests

Minimum Age
16 years
With a small ratio of one highly experienced guide to four guests, you can be sure that you will receive expert tuition and maximum support throughout your climb. Franz Josef Glacier Guides will take care of all technical equipment and climbing gear required for a safe and fun experience, including tailored instruction to suit your pace and ability.
Pricing:
Adult or Child
$670
Minimum age 16 years. Valid until 30 September 2023.
Glacier Heli Ice Climb Trip Information
Can I do it?
No previous experience necessary.
If you've never tried ice climbing before it's no problem, just bring your sense of adventure; we will do the rest. Ice climbing, however, is a challenging sport. You'll need a good level of fitness and mobility to complete this trip.
Reasonable upper body strength is required to effectively use the ice axes, your legs will also be put to the test during your climb. If you lead an active lifestyle and regularly participate in other outdoor sports you should be capable of a Heli Ice Climb experience. If you have any doubt about your ability please contact our friendly team for more information, or feel free to pop into our base to talk to one of our guides in person.
What to bring
Please bring with you:
Warm, breathable base layers such as merino or polypropylene
Suitable long pants for climbing (jeans are not suitable, tracksuits and leggings are fine)
Sunglasses (these are essential, if you don't have any with you we have a selection available for purchase at our front desk)
Sunblock
A small water bottle, lunch and snacks
Your own warm hat and gloves if you prefer
Your camera or phone
Please leave the following items behind:
Your valuables such as passport, wallet and car keys (we have lockers available for hire)
Portable chargers and spare camera batteries
What we provide
We provide:
Suitable boots and socks
Crampons and walking poles
Waterproof jackets
Waterproof over-pants
A small day pack to carry your essentials
A warm hat and gloves
Trip cancellations
The changeable weather that shapes our dramatic landscape on the West Coast can also impact our ability to operate. We will not compromise the safety of our guests or staff in any circumstance, so if the weather conditions mean it's not safe to operate a trip we will cancel it. All trips cancelled due to weather will be refunded.
We need a five-hour window of clear weather to operate our Heli Ice Climb, and because the weather is so changeable we are constantly monitoring weather reports and conditions on the glacier to make the safest and most accurate decision.
We also want to give you the very best chance of getting on your trip, therefore, we make the final call as to whether a trip is going ahead on the morning of your scheduled trip departure. If your trip is cancelled we will notify you by email.
You're welcome to come in and chat to our friendly team for an update on weather conditions, to reschedule your trip or arrange your refund.
If you can manage it, we recommend spending at least two days in the Franz Josef region to allow the best chance of getting onto a Heli Ice Climb trip.
Safety restrictions
Participation
We adhere to the highest safety standards to ensure ongoing safety for both our guests and our team.
We will be delighted to welcome you as a guest on our Heli Ice Climb trip provided you:
Weigh less than 115kg (253.5lb)
Are not pregnant
Are over the age of 16 years old
Are not under the influence of intoxicating drugs or alcohol
Have not been assessed by a lead guide as lacking the required fitness to complete the trip
Pre-existing medical conditions
Existing or previous medical conditions including (but not limited to) those listed below may have an impact on your ability to participate in our Heli Ice Climb. It's important that you advise us of the following when making your booking:
Ankle or knee injuries
ACL damage
Joint replacements or dislocations
Neck or back injuries
Heart conditions and high / low blood pressure
Diabetes
Severe asthma
In addition to this, our lead guides may need to restrict guest participation on a Heli Ice Climb trip based on the specific conditions of the glacier on the day.
Our front line team are always happy to provide an update on glacier conditions on the morning of your trip.
Check-in Location and Details