This world-renowned Glacier Heli Hike is not to be missed.
Your experience combines a short, exhilarating helicopter ride, jaw-dropping scenery and a two- and half-hour hike through the most spectacular glacier features.
It's no wonder our guests often label their Glacier Heli Hike as the highlight of their visit to Aotearoa (New Zealand).
Franz Josef Glacier is the fastest moving commercially guided glacier in the world. As a result, its features are constantly changing and no two trips are ever quite the same. You might find yourself sliding through narrow crevasses, navigating between staggering ice towers, squeezing through ice caves or if you are lucky, all three!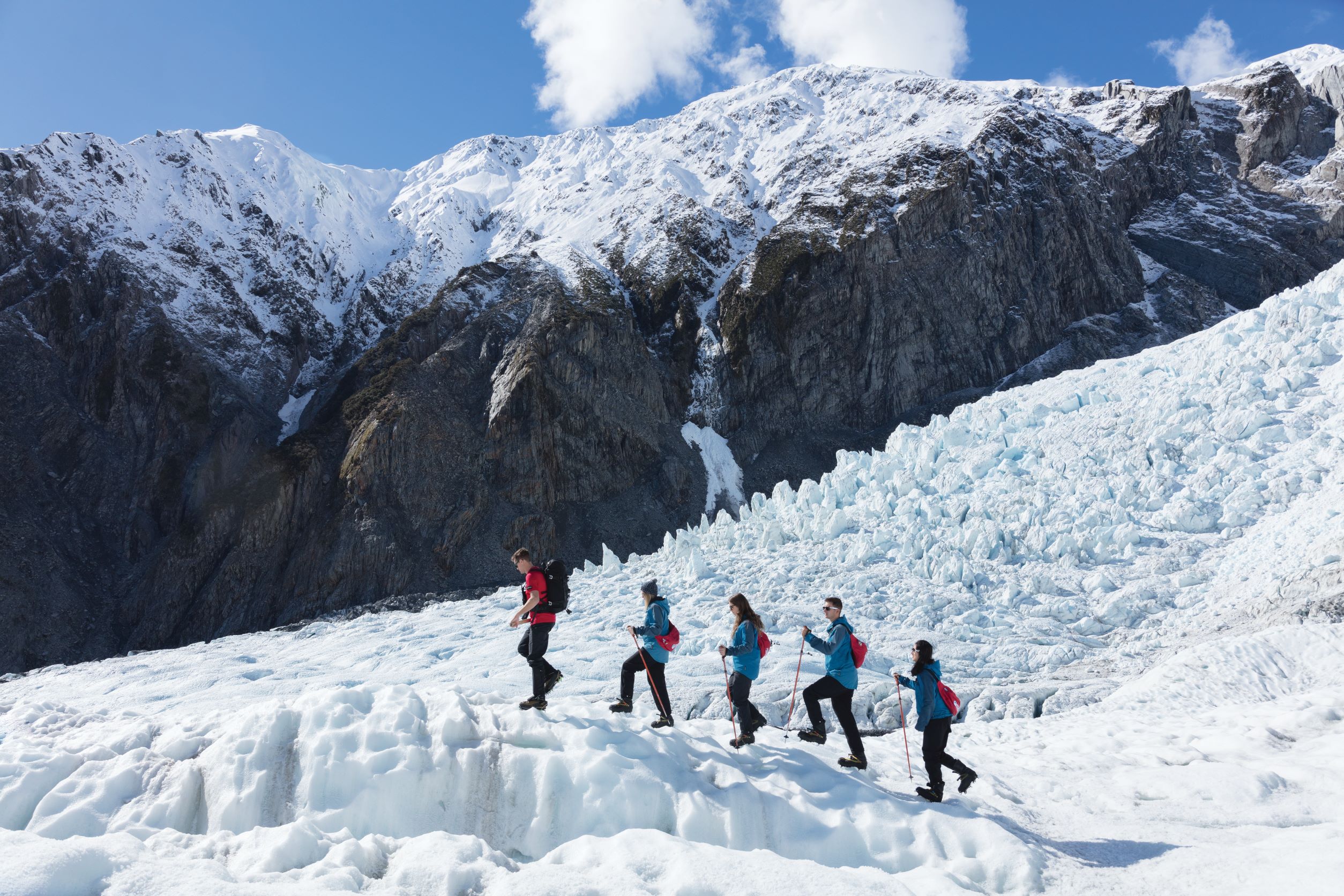 Tour Details

Helicopter Ride
A short scenic helicopter transfer over the glacier valley, landing on the ice

Difficulty
A moderate hike exploring the glacier with your knowledgeable guide

Ice Time
Up to 2.5 hours spent on the ice hiking the glacier and exploring features

Tour Duration
Up to 4 hours from time of check-in to the end of the trip

Tour Times (Summer)
7:30am, 10:00am & 12:30pm (check in 15 min prior)

Guide to Guest Ratio
1 guide to 11 guests

Minimum Age
10 years
Your journey starts and ends at the Glacier Base Building. On arrival, our friendly team will check you in and prepare you for the excitement ahead with necessary gear and pre-trip briefings.
From here, you will take a short walk to the helicopter pad where your pilot will whisk you away over the jaw dropping landscape - an opportunity to take in the full panoramic majesty of Kā Roimata o Hine Hukatere (Franz Josef Glacier). You will land high up on the main ice fall of the glacier, where your guide will help you make the final preparations for your adventure.
Franz Josef Glacier Guides have teamed up with The Helicopter Line who provide access onto the glacier via helicopter.
Pricing:
Adult or Child
$695
Valid until 30 September 2023
Glacier Heli Hike Trip Information
Can I do it?
A reasonable level of fitness and agility is required.
The glacier terrain is variable, with conditions that change each day. We provide you with all the gear you need to walk on the ice including boots, crampons, helmets, harnesses and trekking poles. Your guide carries an ice pick so they can cut a path as your trip progresses allowing you to move through more challenging terrain with ease.
While the route may change from one day to the next, you can expect to be on the ice for two and a half hours, walking for much of that time but with frequent stops to explore the features, hear some stories and information about the glacier and of course make the most of photo opportunities.
There will usually be some uphill components of the hike route but your guide will ensure to sustain a comfortable pace for the groups ability. There are also various glacier features to navigate including crevasses and narrow paths. A reasonable level of fitness and agility is therefore required to negotiate this type of terrain, but if you're comfortable with walking for over two hours then you will most likely be capable of completing our glacier heli hike trip.
What to bring
Please bring with you:
Warm, breathable base layers such as merino or polypropylene
Suitable long pants for walking in (jeans are not suitable, tracksuits and leggings are fine)
Sunglasses (these are essential - if you don't have any with you we have a selection available for purchase at our front desk)
Sunblock
Your own warm hat and gloves if you prefer
Your camera or phone
A small water bottle and snack if you need one
Please leave the following items behind:
Your valuables such as passport, wallet and car keys
Portable chargers and spare camera batteries
What we provide
We provide:
Crampons
Harness
Helmet
Waterproof jacket
Waterproof over trousers
Weatherproof walking boots and socks
Trekking poles
A small waist pack to carry your crampons and essentials
A warm hat and gloves
Trip Cancellations
The changeable weather that shapes our dramatic landscape on the West Coast can also impact our ability to operate. We will not compromise the safety of our guests or staff in any circumstance, so if the weather conditions mean it's not safe to operate a trip we will cancel it. All trips cancelled due to weather will be refunded.
We need a four-hour window of clear weather to operate our Heli Hike, and because the weather is so changeable we are constantly monitoring weather reports and conditions on the glacier to make the safest and most accurate decision.
Since we usually make the final weather call just before the trip departure, the best way to stay informed is to talk to us on the morning of your scheduled trip.
If you can manage it, we recommend spending at least two days in the Franz Josef region to allow the best chance of getting onto a Heli Hike trip.
Safety Restrictions
Participation
Heli Hike Tours are operated by The Helicopter Line with guiding services provided by Franz Josef Glacier Guides.
The Helicopter Line adheres to the highest safety standards to ensure ongoing safety for both guests and our team.
They will be delighted to welcome you as a guest provided you:
Weigh less than 115kg (253.5lb)
Are not pregnant
Are over the age of 10 years old, the weight of 35kg and the height of 137cm tall
Are not under the influence of intoxicating drugs or alcohol
Have not been assessed by a lead guide as lacking the required fitness to complete the trip
Pre-existing medical conditions
Existing or previous medical conditions including (but not limited to) those listed below may have an impact on your ability to participate in our Glacier Heli Hike. It's important that you advise us of the following when making your booking:
Ankle or knee injuries
ACL damage
Joint replacements or dislocations
Neck or back injuries
Heart conditions and high / low blood pressure
Diabetes
Severe asthma
If you have any doubt about your ability to participate in the trip we recommend you consult your medical practitioner prior to booking.
In addition to this, our lead guides may need to restrict guest participation on a Heli Hike Trip based on the specific conditions of the glacier on the day.
Check in Location and Details
Address for check in: Glacier Base, 63 Cron Street, Franz Josef, 7856, New Zealand
Check-in time: 15 minutes prior to trip departure
Check in 7:15am for 7:30am trip
Check in 9:45am for 10:00am trip
Check in 12:15pm for 12:30pm trip
It is important that you arrive at Glacier Base at your scheduled check in time.